Pacific Stage Lines Bus No. 63 1937 Hayes-Anderson PCT-32 "Teardrop"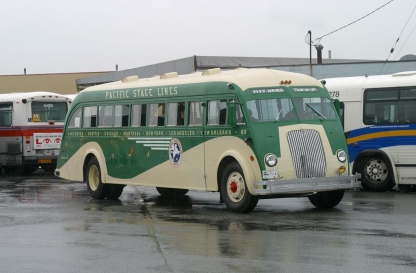 #63 was manufactured by local truck and bus builder Hayes-Anderson in 1937. It was one of 17 PCT-32s built between 1936 and 1937. Before the Second World War, they were the pride of the fleet, but such was the advancement of vehicle technology during the conflict, they were decidedly 'old fashioned' when peace returned. They were demoted to second-tier service as newer vehicles arrived. #63 was withdrawn from service in 1951 and donated to the Vancouver Fire Department to be converted into an emergency rescue vehicle. Later, it became a canteen for firefighters. In the early '80s, it was replaced by another vehicle and returned to BC Transit, which restored it to operating condition. Remarkable as it may seem, #63 is the world's only Hayes-Anderson bus known to be in operating condition.
BC Electric Railway Bus No. 2040 1947 Canadian Car-Brill T44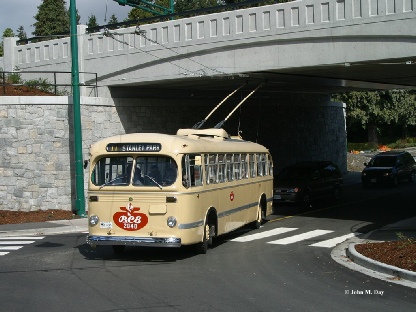 2040 is the only survivor of the first and second batches of trolley coaches purchased by the BC Electric Railway in 1947 and 1948. These were the vehicles that ushered in Vancouver's trolleybus era with the 'rails-to-rubber' campaign. There were a total of 82 44-seat vehicles purchased before the company standardized on the larger, higher-capacity T48. Some of these earlier buses were disposed of at a young age in 1962, due to a downturn in ridership and their lower seating capacity. Ten of them were sold to Edmonton, while the rest were scrapped. The province's last T44 trolleybus was retired by the BC Hydro & Power Authority in 1976. #2040 joined the now-defunct BC Transportation Museum. After spending some years in inoperable condition, 2040 has been fully restored to operating condition and sees occasional use in TRAMS excursions.
BC Electric Railway Bus No. M852 1947 Twin Coach 41S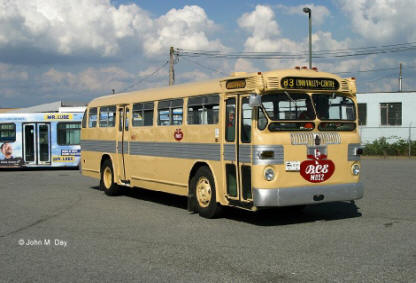 To assist with the "rails-to-rubber" conversion program of the late 1940s/early 1950s, the British Columbia Electric Railway acquired a large number of gasoline-engined Twin Coaches. By 1950, models 34S, 38S, 41S, 44S and 44D were represented on the company's roster. The BCER numbering scheme identified motor buses with the "M" prefix, to distinguish them as oddities in what was at the time a much larger electric fleet. The "8" signified a bus assigned to the North Vancouver, where rail service succumbed to buses in 1947. The Twin Coaches were the dominant type of motor bus in the B.C. Electric and B. C. Hydro fleets throughout the 1950s and progressively retired through the late 1960s when GM diesels were acquired in large numbers.
BC Hydro Transit Bus No. 2416 1954 Canadian-Car Brill T48A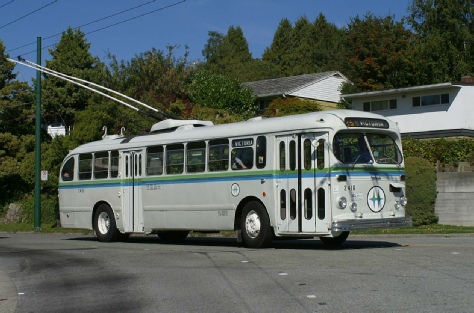 Canadian Car-Brill T48A #2416 was the last trolley coach purchased new by the B. C. Electric Railway. Longer and wider than the earlier T44, it featured a higher seating capacity of 48; most were modified to have single offside seats to accommodate more standees than previous coaches. It was also one of the last trolleybuses built by Canadian Car in Fort William, Ontario. Built in 1954 and retired in 1984, it is preserved today in the livery of the B.C. Hydro and Power Authority, the successor to BC Electric. #2416 often appears at TransLink events, the most recent being the 70th anniversary celebration of trolleybus service in 2018 and the launch of the battery-electric bus trial on Route 100 in 2019.
BC Hydro Transit & BCER Buses #3404 & #3405 1957 Canadian Car-Brill CD52A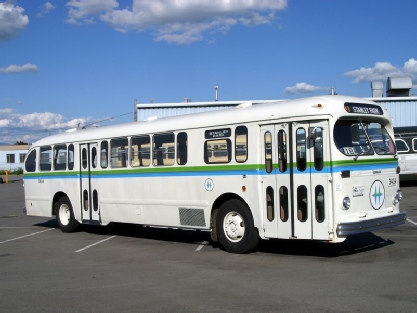 #3404 was built in 1957 and retired from regular service in Vancouver in 1977. It was then repainted and operated until 1981 as a "Shoppers' bus," then retired again. It was moved to Victoria where it briefly operated again on a shoppers' service sponsored by the Victoria Chamber of Commerce, while owned by the Victoria Electric Railway Association. Falling into disuse, it was donated to TRAMS on July 14, 1999. 3404 is finished in BC Hydro's popular livery introduced in the early '60s.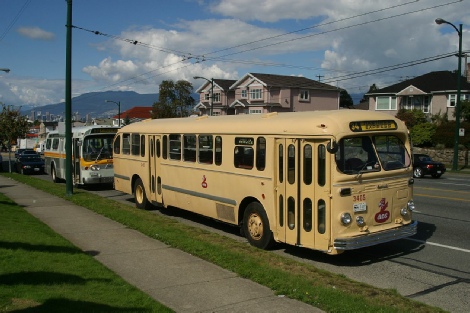 Like its sibling, #3405 was built in 1957, retired from regular service in Vancouver in 1977, repainted and operated until 1981 as a "Shoppers' bus," retired again, moved to Victoria where it briefly operated as a shoppers' bus sponsored by the Victoria Chamber of Commerce while owned by the Victoria Electric Railway Association, and donated to TRAMS on July 14, 1999. #3405 is finished in BC Electric's all-over cream livery it was originally delivered in. The two buses are equipped with British-made A.E.C. "Pancake" diesel engines – a horizontally-laid version of the engine used in London's famous red double-deckers.
BC Electric Railway Bus No. 730 1957 General Motors TDH-4512 (converted)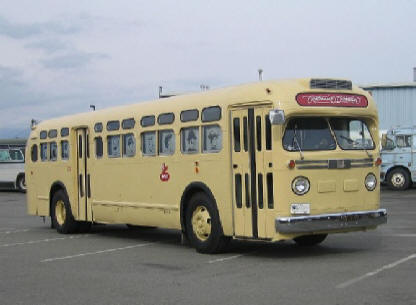 Originally serving in Victoria and later Powell River, Mission and other small communities in B.C., #730 retired from service in 1986 as BC Transit #642, bearing the red, white and blue livery applied to their buses between 1982 and 2008, and was exhibited at Expo 86 following its retirement. It was then restored externally and converted to a mobile theatre and public relations vehicle for transit's Centennial Celebration in 1990. Known as an "Old Look," this American-built coach was available between the late '30s and 1959, when it was superseded by the "New Look" or "Fishbowl" as exemplified by #4612 and #4107. Before the early '60s, GM coaches were not very popular in Vancouver, being mainly used in Victoria. When the Bureau of Transit Services expanded bus services in 1974, used buses similar to this model were bought second-hand from operators in California. Most recently, #730's interior was renovated. The formerly dark interior was brightened up with new paint and LED lighting, made easier to move around in with the removal of original seats, and the timeline mounted on the bus's walls was updated to reflect the history of transit in Metro Vancouver from its beginnings to the present day.
BC Transit Bus No. 678 1959 General Motors TDH-4512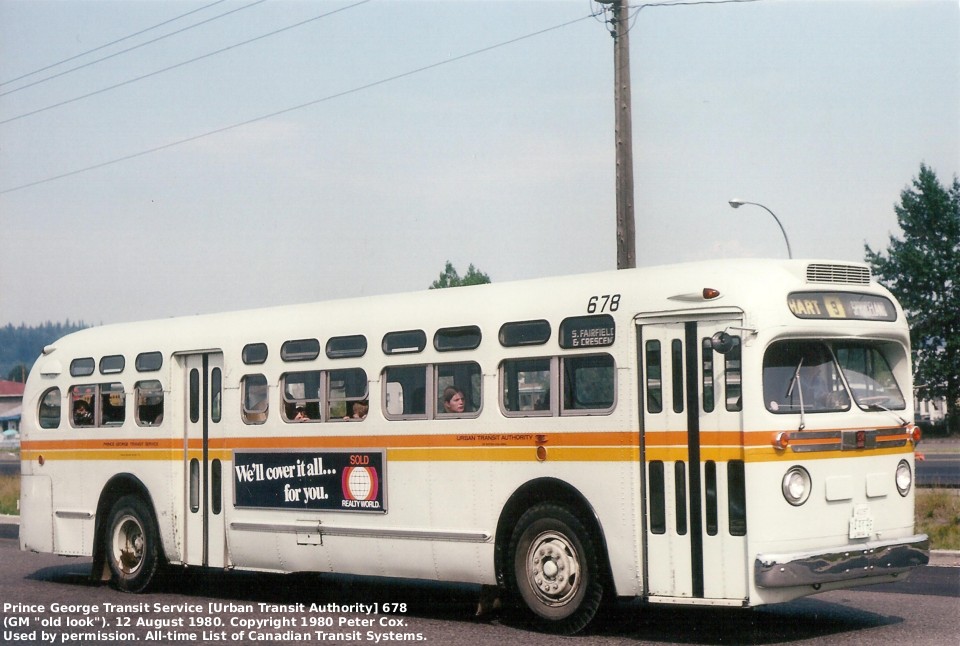 Last serving Prince George before its retirement in the mid-'80s, #678 was originally delivered new to Victoria as #740. After it was sold in 1987, it ended up in the hands of a private owner and returned to Vancouver Island before being left to sit off the Patricia Bay Highway in the early '90s. In the early 2000s, #678 returned to the mainland and eventually fell into the hands of 911 Filmcars in New Westminster. It supposedly ran and drove onto the trailer on which it would be brought onto the ferry and across the Georgia Straight. In December of 2018, movie vehicle rental company 911 Filmcars contacted TRAMS with an offer to donate #678 which would otherwise have been scrapped; an offer that was obviously accepted. We are relieved to have found that it is structurally sound after a thorough inspection, although its mechanical state is yet to be determined.
BC Hydro Transit Bus No. 4612 1964 General Motors TDH-4519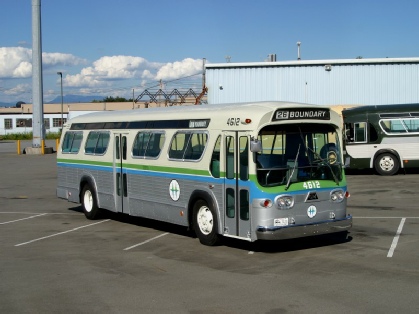 Even though GM vehicles were heavily featured in BC Electric's (later BC Hydro's) fleet in the rest of the province, the Vancouver division mostly standardized on Twin Coach and Canadian Car buses. Only in 1964, five years after its introduction to the North American market, did a 'Fishbowl' (or 'New Look') become part of the Lower Mainland fleet. In this case, BC Hydro had succeeded BC Electric, and purchased 16 such buses for its North Vancouver services. 4612 later served in Burnaby and Surrey on low-ridership routes due to its shorter length of 35 feet.
BC Hydro Transit Bus No. 2649 1976 Flyer E800 "Triesel" trolley wire deicer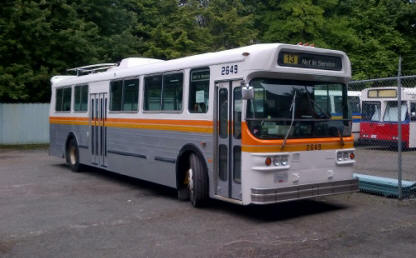 The plan sounded as though it would work: build brand-new coaches with old powertrains recycled from scrapped Brill trolleys, some of which were nearly three decades old. What resulted were buses whose modern appearance wrote checks their old and tired powertrains couldn't cash. After the E900-series trolleys (with brand-new powertrains) were delivered and placed into service in the '80s, BC Transit quickly got to work on these coaches, replacing the decades-old electric drivetrains with newer, more potent diesel ones. Our example is one of two with their trolley collection equipment retained and modified to deice trolley wire. It was last used by Coast Mountain Bus Company for deicing in 2008. It has since been stripped of deicing equipment, having been superseded by brand-new dedicated deicing trucks.
BC Transit Bus No. 4107 1982 General Motors T6H-5307N "Hillclimber"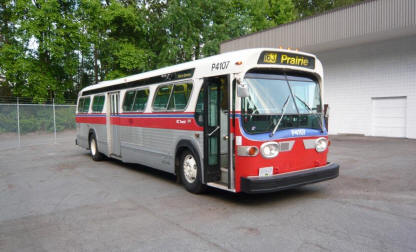 By 1982, the GM "New Look" was in its fourth generation. Introduced in 1972, it would be the last generation of
'Fishbowl:' GM would introduce the fifth generation, named Classic, with a major facelift in 1983, though existing 'Fishbowl' orders would be produced into 1986 instead of having Classics built in their place. Our example is called a 'Hillclimber' because of its turbocharged Detroit Diesel 6V92TA engine and low transmission gearing; the "N" suffix on its model number signifies its lack of air conditioning. #4107 was purchased for North Vancouver, and later ran from Burnaby, Surrey and Port Coquitlam. It was finally retired by Coast Mountain Bus Company in 2007 after spending some time in storage. It currently serves as our own reindeer bus every holiday season.

Edmonton Transit System Bus No. 132 1982 General Motors/BBC HR150G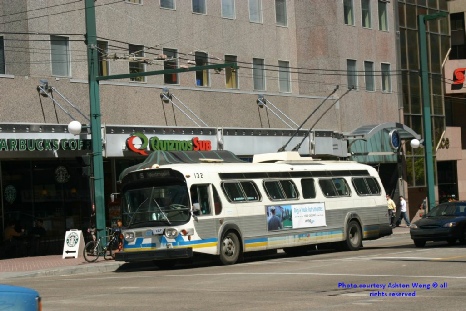 Donated by the Edmonton Transit System, this trolley coach produced by a collaboration between General Motors and Brown, Boveri represents what could have ran along the trolley wires in Vancouver and Burnaby between 1982 and 2008. A contender for the large order of trolleys placed in the early 1980s to replace the Flyer E800s and remaining Brills, a competing bid was chosen instead, resulting in the ultimate purchase of Flyer E901A and E902 trolleys that served for more than a quarter century before being superseded by our current fleet of New Flyer low-floor coaches. Meanwhile, Edmonton purchased more than 100 of these unique coaches, some of which had also been leased to Toronto and sold to operators in the U.S. and Bulgaria.
BC Transit Bus No. 3334 1982 Flyer D901A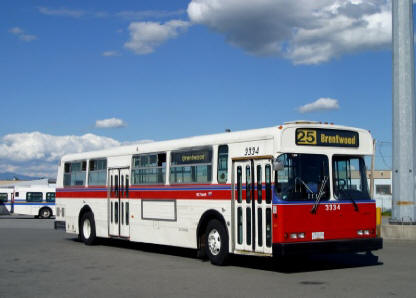 In addition to the huge 245-unit order of 900-series trolleybuses, Flyer Industries also won a contract to supply 35 diesel-powered versions of the model. These coaches arrived before their electric counterparts, and some lasted into the new millennium. Ours was one of the last units remaining and was received in non-operational condition; it is possible that it was retired during an engine repair or rebuild due to the parts that were missing when we took possession of it. Although we managed to get it running and driving again, it still had quite a few issues. We currently aim to diagnose and repair these issues in the foreseeable future.
BC Transit Bus No. 2805 1983 Flyer E902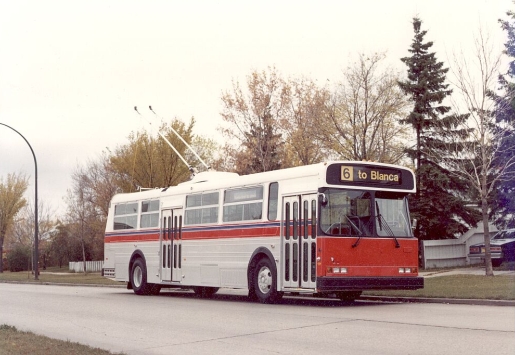 Offered by Flyer from 1981 until 1986, the E901A and later E902 trolley coaches were only purchased new by BC Transit to replace its fleet of Flyer E800s and remaining Brills in the early '80s. With all-new powertrains, these coaches had the smooth acceleration, power, and modern technology the preceding E800s lacked. All but one of these trolleys, which was engulfed by flames at Oakridge Transit Centre, remained in service until 2008. A number of these trolley coaches were purchased from TransLink by the province of Mendoza, Argentina after retirement, while #2805 and a parts bus were donated to TRAMS. Unfortunately, our coaches were stored outside in a lot during the 2010 Olympics, allowing metal thieves to destroy their drivetrains and propulsion systems, leaving them in an unrepairable state. #2805 was eventually converted to a makeshift office for TRAMS while the parts bus was scrapped. While an unsuccessful attempt has been made to get assistance from New Flyer Industries in repairing #2805, and efforts have been made to purchase and reimport a working unit from Argentina (all of which have now been retired by Mendoza), the chances of seeing an E900-series trolley in operating condition are extremely slim.
Coast Mountain Bus Company Bus No. 4276 1990 MCI Classic TC40102N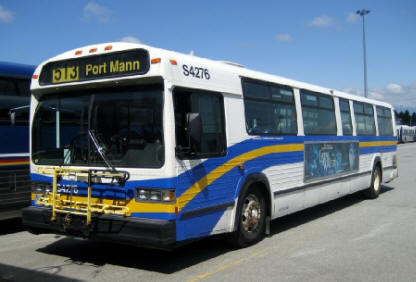 In 1987, General Motors decided to exit the bus industry, selling its bus designs and factories to other manufacturers. The Quebec plant producing the Classic, the fifth generation of the "New Look," was purchased by Motor Coach Industries. MCI-produced Classics were completely unchanged from GM-produced units, save for the addition of daytime running lights to Canadian models in December of 1989 and wheelchair lifts to all in 1990. In 1993, MCI decided to exit the transit market and its Classic plant was acquired by then-startup Nova Bus. Nova would continue producing Classics until 1997; it was them who reconfigured the Classic's drivetrain layout to accommodate modern engines like the Cummins C8.3, giving the "New Look" bus a technical sixth generation. Our 1990 Classic served from Oakridge, Richmond and Surrey Transit Centres until being withdrawn in 2008.
Coast Mountain Bus Company Bus No. 3106 1991 New Flyer D40(HF)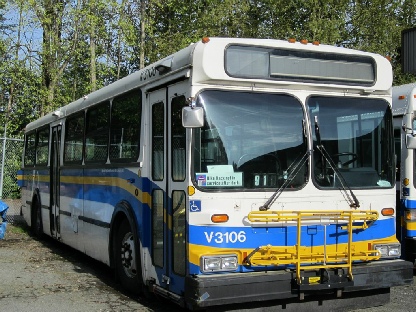 Built and delivered in 1991, #3106 is our newest unit, reflected in both its styling and many of its features including its computer-programmable electromechanical destination and route signs. The D40, which was later joined by the D35, articulated D60 Galaxy and other models in the High Floor line, was New Flyer's first all-new model after the company's formation in 1986. Introduced in 1987 with technologies and manufacturing processes adopted from New Flyer's then-parent, now-defunct Den Oudsten Bussen, the D40 featured a tubular steel structure with aluminum and fibreglass body panels, the latter allowing it to have its intricate, modern styling. #3106 is in a "semi-suburban" configuration, with overhead reading lights and soft, front-facing seats in addition to a narrower rear door than its urban-use siblings. Retired from revenue service in early 2010, it remained in service through the 2010 Winter Olympics as one of 160 overload units to provide additional capacity for a sharp increase in ridership. It was one of several D40 units sold off as complete, running and driving, road-legal buses later that year. Ours was picked up by a scrap dealer along with several others before we bought it off them. An interesting thing to note about #3106 is its farebox blanking plate, inscribed with the message "Welcome Aboard."