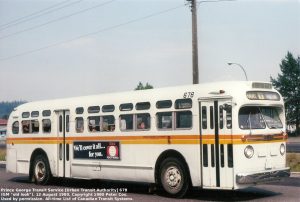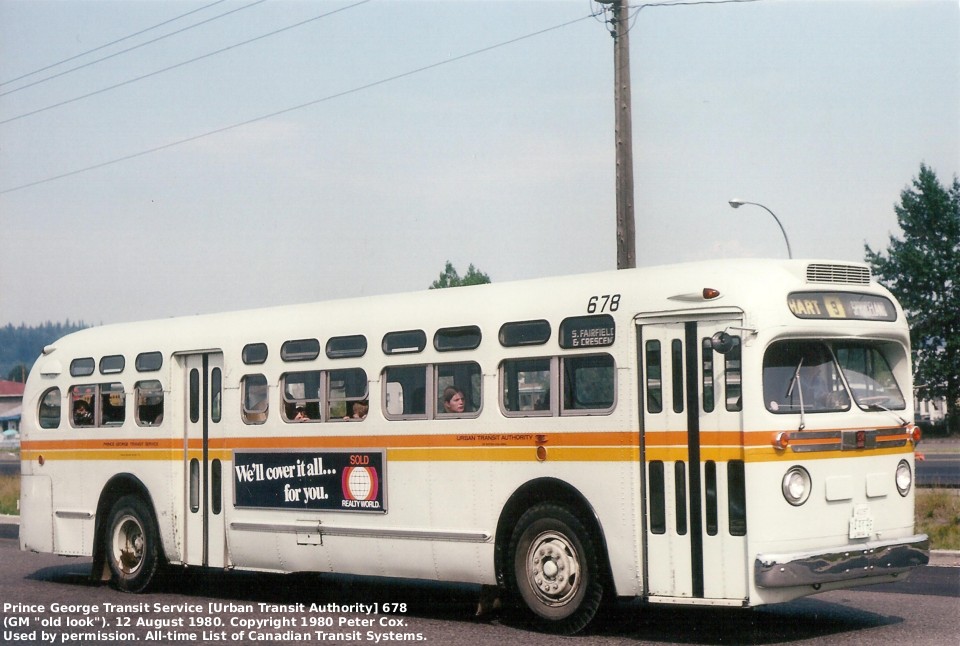 About the GM "Old Look"
Known as the "Old Look," this American-built transit coach was available between the late 1930s and 1959, when it was superseded by the "New Look" or "Fishbowl". Before the early '60s, GM coaches were not very popular in Vancouver, being mainly used in Victoria. When the Bureau of Transit Services expanded bus services in 1974, used buses similar to this model were bought second-hand from operators in California.
About #678
Last serving Prince George before its retirement in the mid-'80s, 678 was originally delivered new to Victoria numbered 740. After it was sold as surplus in 1987, it ended up in the hands of a private owner and returned to Vancouver Island before being left to sit off the Patricia Bay Highway in the early '90s. In the early 2000s, 678 returned to the mainland and eventually fell into the hands of movie vehicle rental company 911 Filmcars in New Westminster. It supposedly ran and drove onto the trailer on which it would be brought onto the ferry and across the Georgia Straight.
In December of 2018, 911 Filmcars contacted TMS with an offer to donate 678 which would otherwise have been scrapped; an offer that was obviously accepted. As one of our current restoration projects, we are relieved to have found that it is structurally sound after a thorough inspection, though its mechanical state is yet to be determined.