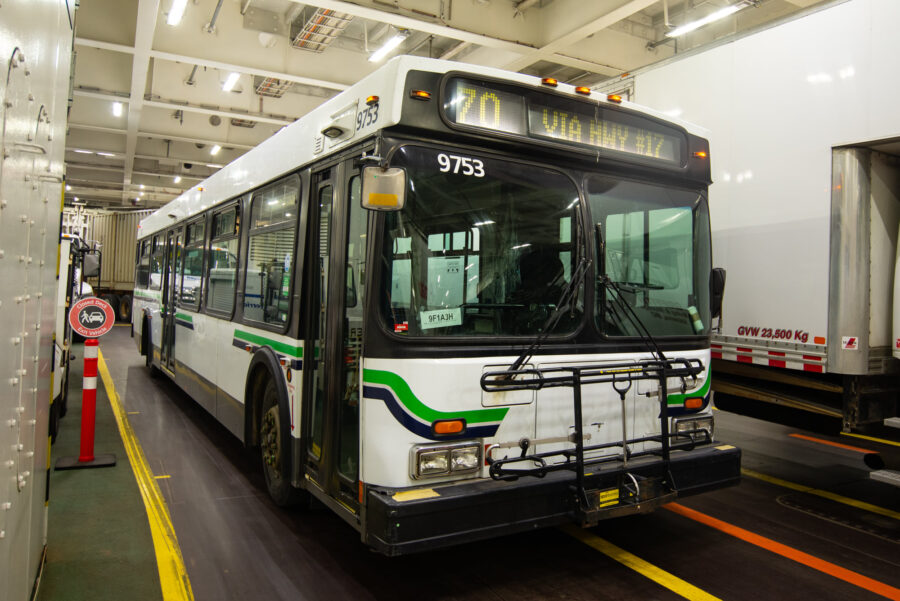 About the D40LF
Under den Oudsten, New Flyer began to make a major breakthrough in the North American bus industry in 1988 when they imported a European-market Den Oudsten low-floor transit bus for testing and demonstration across Canada and the United States. Although low-floor buses with wheelchair ramps had been available in North America since 1983 in the form of the medium-duty Orion II shuttle, all heavy-duty buses were high-floor designs that were less accommodating of riders who use wheelchairs and other mobility aids.
In 1989, New Flyer presented a prototype of their North American-market low-floor bus which entered production in 1991, becoming the first low-floor heavy-duty transit bus to be sold in North America. Initially available as a single, 40-foot diesel-powered model named D40LF, the Low Floor line of buses would later grow to include two shorter 30- and 35-foot variants and a 60-foot articulated variant. The New Flyer Low Floor is widely regarded to be the second coming of the GM "New Look", given its popularity among operators and transit enthusiasts alike and its long production run of 23 years from 1991 to 2014.
Much like the "New Look", the Low Floor buses were revised several times over the course of their production run. In the mid-1990s, the Low Floor gained a multiplexed electrical system and a minor facelift to make its design more consistent with that of the High Floor. While the Low Floor continued to receive minor revisions, a major revision made in 2005 brought a major facelift to the standard models while a streamlined "Advanced Styling" option was introduced to target bus rapid transit (BRT) operators. Powertrain options grew from a single, inefficient two-stroke diesel to a wide range including clean-burning four-stroke diesels, CNGs, diesel-electric hybrids, electric trolleys and hydrogen fuel cells. In spite of the 2005 facelift, standard Low Floors with the mid-1990s facelift styling would be produced into 2013, much like "New Looks" with "Fishbowl" styling, albeit with many of the other revisions made to the model range.
Shortly after the Low Floor entered production in 1991, BC Transit became the first Canadian operator to purchase these buses, acquiring an initial order of nine D40LFs for Victoria that year. In the mid-90s, the first low-floor units were acquired for Vancouver and West Vancouver with fifty units and seventeen units initially procured for each system, respectively. These were built and delivered between late 1995 and early 1996.
About #9753
9753 was originally obtained as part of Vancouver's second set of 93 D40LFs built between mid- to late 1996, carrying the fleet number 7183. After serving Metro Vancouver until late 2013, it was retired from service and in 2014, it became one of 11 D40LF units that BC Transit repurchased from TransLink, who had taken ownership of them in April 1999 when they assumed control of transit operations in Metro Vancouver.
After returning to BC Transit ownership, 9753 initially served Victoria before it became a contingency unit that served other communities throughout the province over the next several years. In 2019, it returned to Victoria where it would remain in service until its retirement in early 2021. After 25 years in revenue service, 9753 has clocked over 1.2 million kilometres and has since become part of the TMS collection as a generous donation from BC Transit.