It's been a long time since the last post to the Transit Museum Society blog. Truth was, we had no-one who was willing to take on the job of "TMS Blogger!" Well, now we have! Rachel Lee has just joined our Society… it's a bit confusing if she volunteered to be our Social Media Co-ordinator or we (the older, un-connected, uncool types) volunteered her. Anyway, she took it in her stride, and even agreed to resurrect our blog.
During our conversation, she let it slip that she is passionate about social media and its possibilities. You may have seen her Facebook page, complete with a web-comic about transit. The page attracted the attention of the social types who keep TransLink online: they asked if she would draw some artwork for an upcoming edition of The Buzzer.
She agreed. Her artwork graced an edition promoting the transit authority's vision of how we may get around in the future, asking for ideas from the public. Lee took her interpretations of the vehicles we see everyday, gave them personalities, and drew what they thought the future may look like: submarines, helicopters, rocket-packs and space-ships. All were combined into a stunning illustration for the brochure.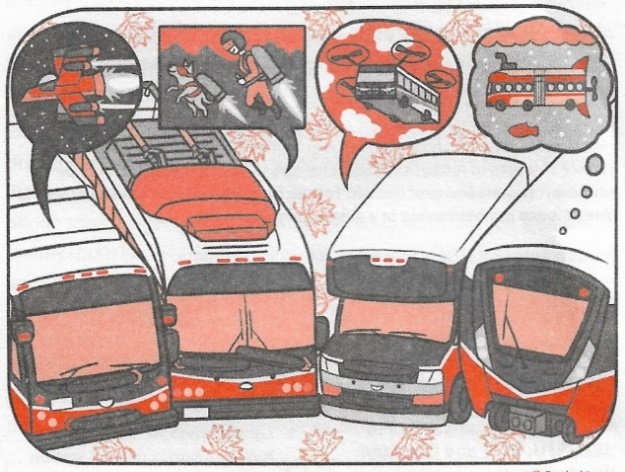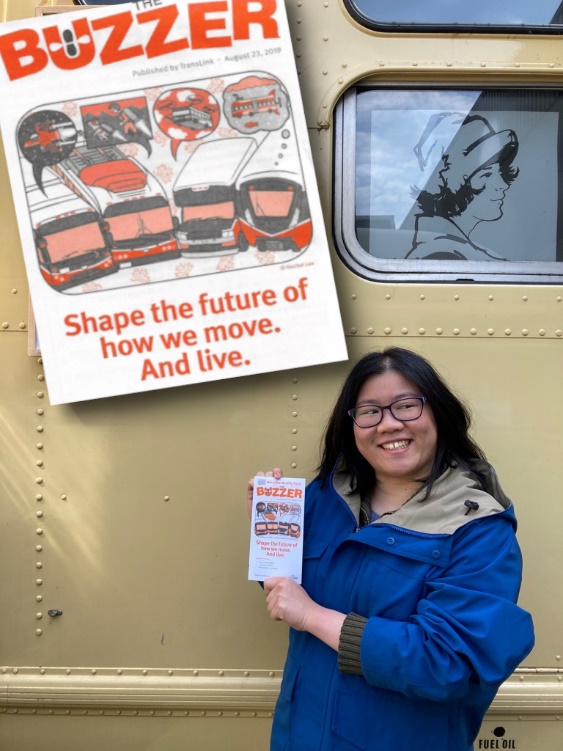 Lee says she has been drawing since a child. But she wasn't fond of the traditional subjects of culture, portraits, and landscapes. She wanted to focus on something Canadian, but local. That's when she decided that transit was the ideal subject for her artwork and Facebook page. And she developed her unique style, based, she says, on web-comics and fan-art.
Rachel Lee holds a copy of The Buzzer with her illustration on the cover. (Sue Walker)
After being contacted by TransLink, she was given a tour of Vancouver Transit Centre. That's when she realized that buses were cool. Lee was also impressed by the huge undertaking needed to run a large transit operation. She also realized that nobody is doing fan-art of buses, and definitely no-one is creating fan-art of TransLink buses.
So, we're happy to welcome Lee to the Transit Museum Society. In her role as Social Media Co-ordinator she'll look after our two Facebook pages, and breathe new life into our Twitter account. (Yes, we have one. Like the blog it's been asleep for many years!) She has plans for Instagram too. And, of course, the blog. (Which, by the way, needs a name. If you have a suggestion, you can email Rachel: social@transitmuseumsociety.org!)