From Buses to Blooms
Member Jason Sharpe visited the site of our former home at Roseberry Avenue in Burnaby, last week. As you may know, our unit, #6, was part of a complex of two buildings owned by United Flower Growers.
United Flower Growers is a co-operative of 80 members engaged in the floriculture industry. Flowers and other floral products are supplied to retailers and wholesalers throughout BC, as far as Manitoba in Canada and California in the United States. Flowers are auctioned "Dutch-style" – that is the price starts high and is lowered until someone buys. The process is now computerized, available online, each transaction taking from two to five seconds.
UFG began in 1963. The auction is said to be the largest in North America. The former building housing Unit #6 was opened in 1986, part of a $5M complex. Below is Jason's photograph of the beginnings of a new structure, believed to be more warehousing. (I'm not sure whether a new auction hall is being built – the number of 'in-person' auctions declined considerably during the pandemic, moving on-line.)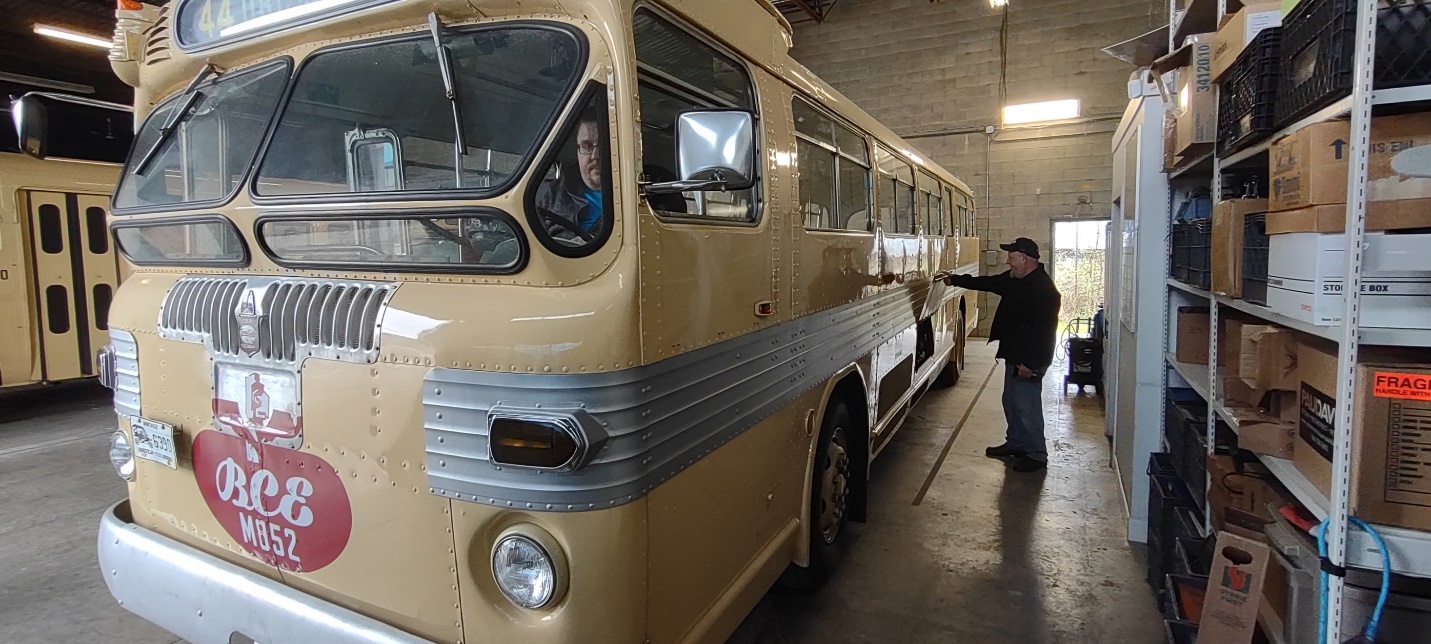 Meanwhile at our new facility in Langley, buses were again moved around, in preparation for a possible "trade" with our satellite storage. Fageol M852 may travel out to the Fraser Valley in exchange for 4107 or 3106. Both coaches need minor work performed on them. Lawrence Walker and Angus McIntyre gave the Fageol a spin around the Langley parking lot. (Above, Mathew Walker starts the engine while Lawrence makes some adjustments to it.)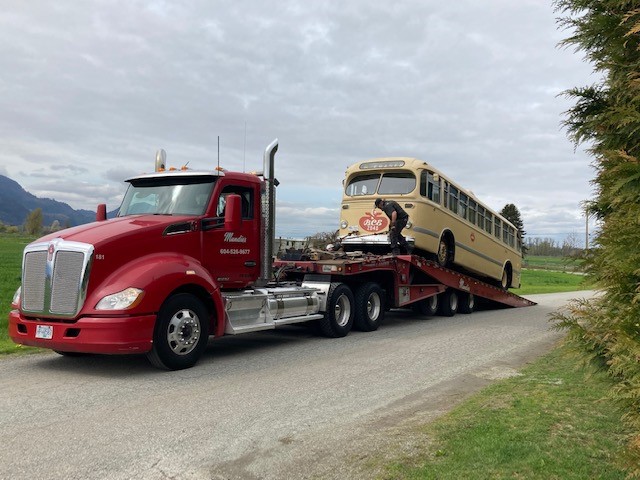 On Tuesday, Brill T-44 trolleycoach travelled from satellite storage to TransLink's VTC to be be prepped for a special event coming up in August. (Photo: Bryan Larrabee)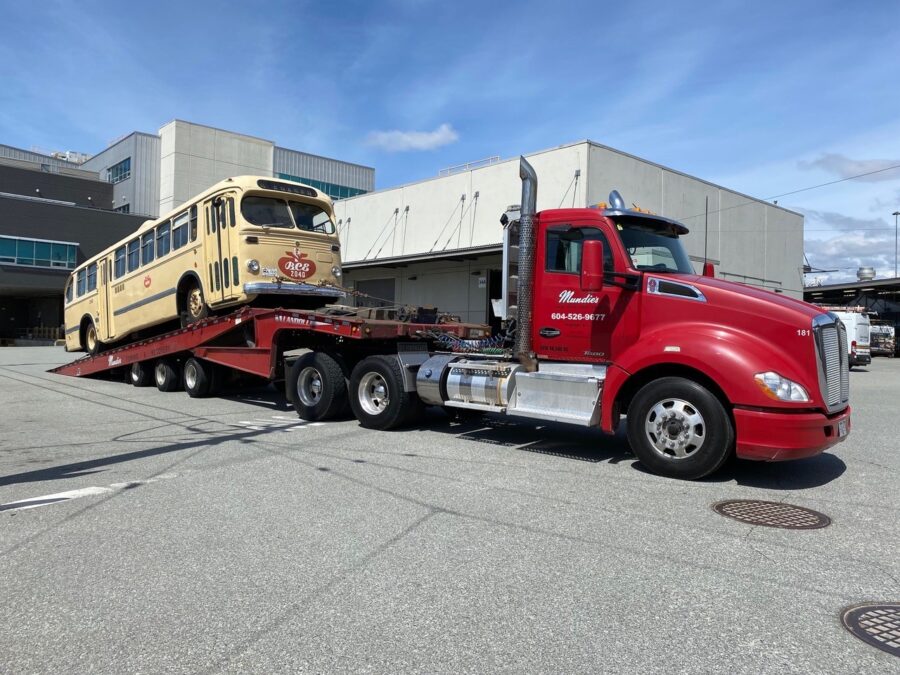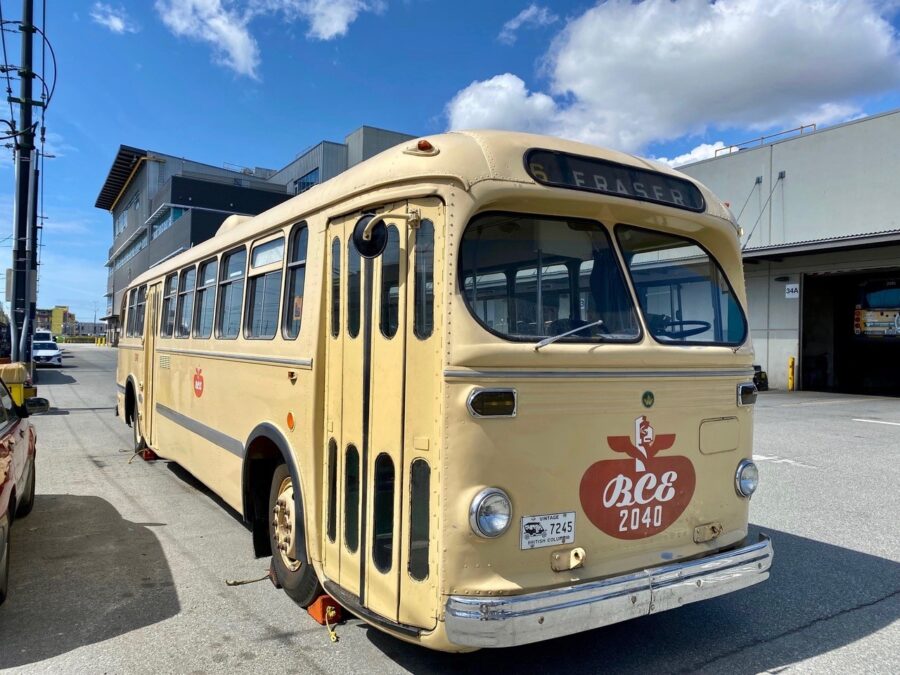 (Photos: Angus McIntyre)
Bryan Larrabee writes:
We had quite a day on Tuesday April 24th.
Mundies Towing was very accommodating as we made a change of plans the day before. Sean, Lawrence, Milan and I met the Mundies truck at 8am at our Langley shop. They loaded the Fageol and it was trailered out to our Fraser Valley storage where we all met at 10am. Lawrence backed the Fageol off and parked it aside and then Fraser used his 4×4 tractor to tow #2040 carefully out of the barn, out the driveway to the road, pulling it backwards past the Mundies truck, lining it up then winching it onto the truck. Sean and Milan helped the driver (John) measure the height and the load was okay.
After that was done, Lawrence backed the Fageol into place. Lots of help by Sean and Milan spotting.
We then turned our attention to the Hillclimber #4107. Fraser had it on a charger overnight for us and after a quick check of everything by Sean, we hit the starter and she wouldn't start. Lawrence and Sean decided to connect our booster pack and the spare battery we brought from Langley to give it maximum power. After rechecking by Sean and Lawrence, Milan hit the rear starter switch and she started first try. We got a brief bit of black smoke on start up, and white smoke for another 10 seconds and no smoke afterwards.
On the drive home, we stuck to the curb lane and easily followed the flow of traffic through Maple Ridge onto the Golden Ears Bridge into Langley. The bus ran fine. Brakes appeared to be okay and the steering was great. We parked the bus face in. All done by 2pm.
In the meantime, #2040 arrived safely at VTC met by James and Angus. The plan is to have the trolley guys start looking at it asap and give us an assessment on it's roadworthiness.
Quite a day and thanks to everyone that helped.