It's just after 10pm on 14th December 2022 when TMS member Jeff Veniot witnesses an unusual sight on West 1st Avenue near Crowe St. There, a tractor unit is attempting to do a right turn. Attached is a specialized trailer loaded with an very large object wrapped in a large white tarp. Peeking out from the end is the unmistakeable face of Car #4, a tram once owned by the Transit Museum Society, purchased to one day run on the now-abandoned Downtown Historic Railway.
How the streetcar came to this point, squeezing by cars with centimetres to spare under the watchful eyes of transportation specialists from Nickel Bros, with a police escort no-less, began nearly 87 years ago in Brussels, Belgium.
There, Car #4 –or to give it its original number of 5023 – entered service in 1935. But to the casual observer, this would be hard to determine. On first glance, Car #4 looks to be one of the large number of PCC-based streetcars purchased by European systems after WW2, some actually using trucks from scrapped US cars. But appearances can be deceiving.
Below: #5023 in service in Brussels (TMS Archives); Lower: Car #4 as offered at auction. Restoration will be a daunting task! We do not know the intentions of the winning bidder. (BC Auctions)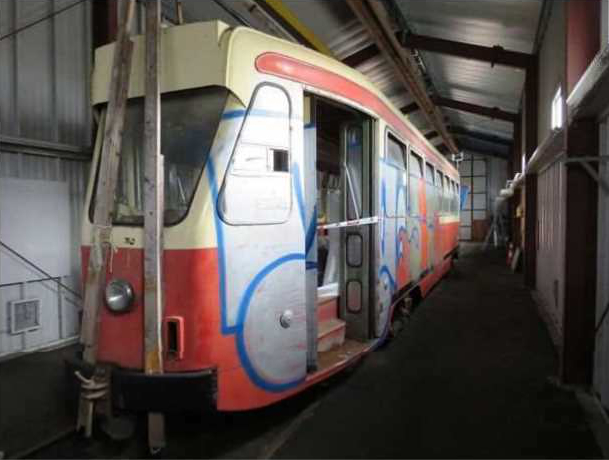 #5023 was part of a 25-car order by Ateliers de La Dyle et Bacalan, a well-known Belgian builder, based in Louvain. Les Tramways Bruxellois (predecessor of today's Brussels Intercommunal Transport Company or STIB-MIVB) wanted them to carry crowds to the 1935 world exhibition. They were the first dual-truck streetcars in Brussels. They had wooden bodies, carrying 90 passengers, 34 of whom were seated. They were fast and reliable. Distinguishing marks were the square and stiff appearance. They were referred to as Standaardtrams. (https://www.nycsubway.org/wiki/ Brussels,_Belgium_Trams)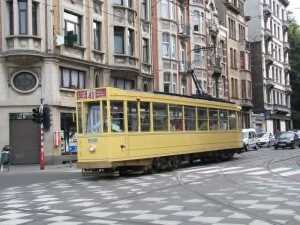 Four cars, though, #5006, 5020, 5021 and 5023 were rebodied following accidents. In 1964-65, #5023 was given a new steel body which resembled the PCC cars of the #7000 series which began to be delivered in 1951. The class was retired in 1976. The four rebodied cars became "works cars" #5023 became Works Car #4. (https://www.bec-kits.co.uk/Kitpages/kit32.htm) They retained their exterior appearance except side windows were blocked off, leaving only small openings at the top.
It's the late 1990s, and STIB decides to withdraw Car #4 from service. Streetcar buff Claude Sabot who grew up in Belgium, has settled in Gibsons, BC. Here he hopes to build a heritage tramway, purchasing old retired Brussels trams. His dream would falter through lack of money, and he would be forced to sell his acquired streetcars. (While at least two would travel to museums in the US, I have been unable to determine their fates.) Claude used his experience to convince STIB to donate Car #4 to TMS and secure half-price shipping to Vancouver. (Dale Laird). The tram arrived in Vancouver on 15th September 2000.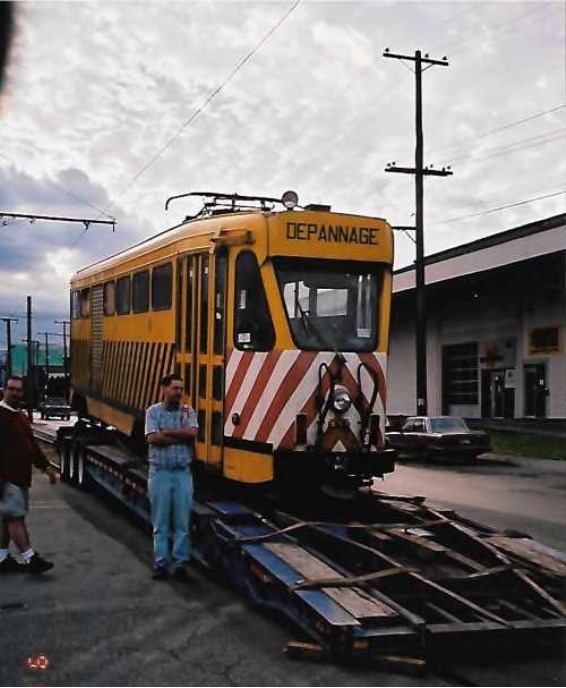 Dale Laird supervises unloading of Car #4, 15th September, 2004 (TMS Archives)
"(The enthusiasts) found the money to put windows in and the volunteers started to restore the car. A UBC student project worked on the controller and they almost got it into running condition. At the time the City of Vancouver was a part sponsor and did the servicing and maintenance on the two interurban trains. I don't think they put any money into Car 4. Eventually the DHR became a victim of budget cuts within the city and Car 4 was abandoned. " (Bryan Larrabee)
The City put Car #4 up for auction in August, 2022. Special note was made of the condition it was in, the presence of Asbestos, and the need for specialized equipment and manpower to remove it from the DHR car barn. Nevertheless, there were 130 bids, mainly from two interested parties. Both were serious — one had a history of over 60 successful bids – but it came down to the final few seconds. A bidder was trumped by $5 just as the auction ended. It's hoped the successful bidder –with a winning bid of $405 –realizes the challenges of removing and transporting the streetcar. The city had stated the streetcar had to be removed by October 14th, 2022. But it wasn't until December that preparations were started to move car #4. A few days later, on December 14th, the move took place.
Nickel Bros is a long established trucking company specializing in house and large object moving projects. Jeff reports that from the car barn, the low-loader carrying the streetcar moved under the Cambie bridge along the abandoned right-of-way.
(Now) on First Ave… they tried turning right onto Wylie St, but that wasn't going to happen…so they went one more block to Crowe St. That proved difficult as the street had not been cleared of cars. They had to back up & pull forward a few times. Fortunately the rear set of wheels had a steerable truck & they made it.
Then another slow turn onto 2nd Ave heading West. Then the tight Left turn onto the Cambie Street southbound loop – opposite the Olympic Village Canada Line Stn. I left them as they sailed through Cambie & Broadway.
I asked the movers where they were going & got different answers. The most common answer was somewhere on Marine Drive (Vancouver), to a private residence (?) for restoration & then it would become a restaurant somewhere.
(Jeff Veniot)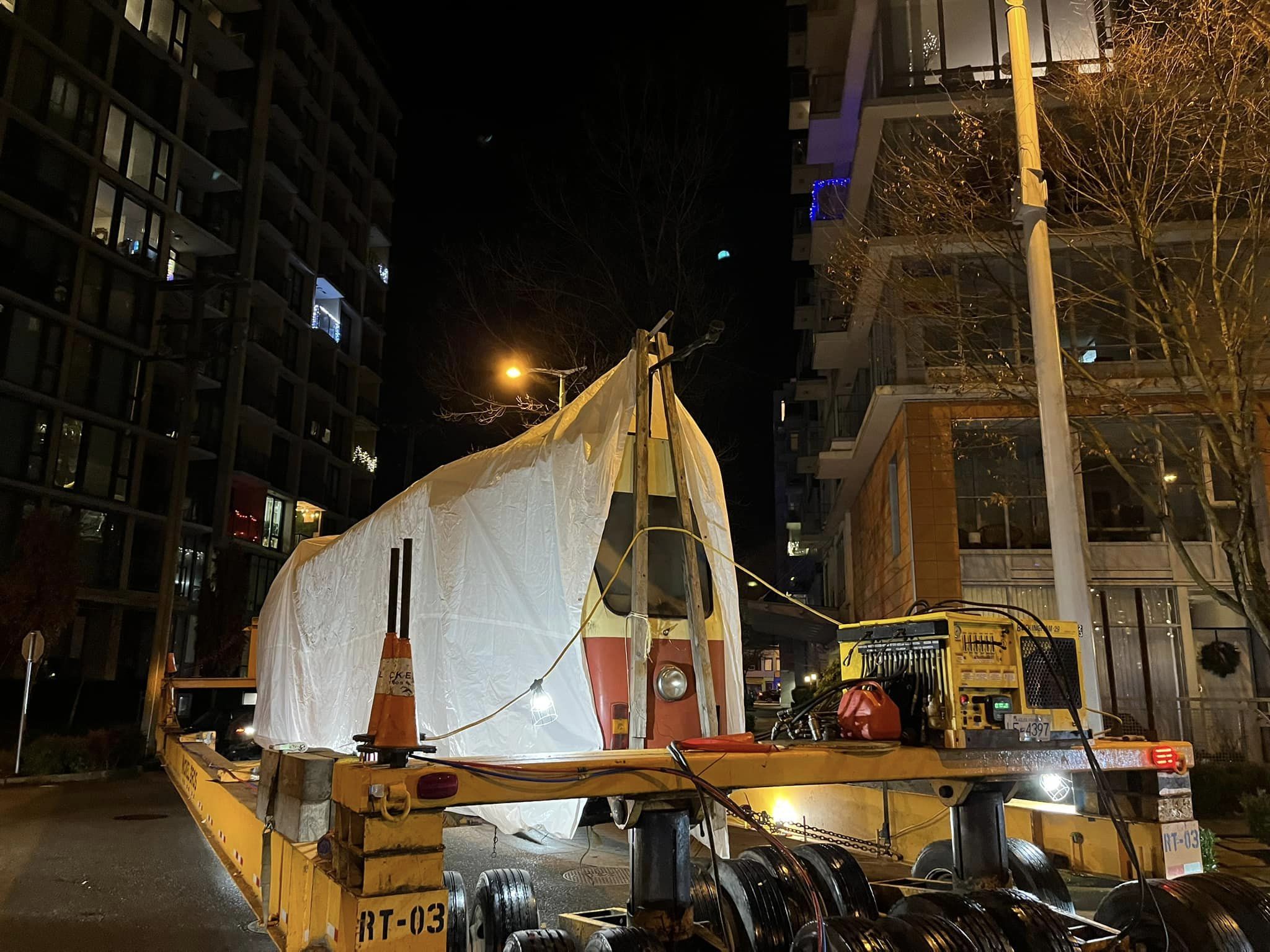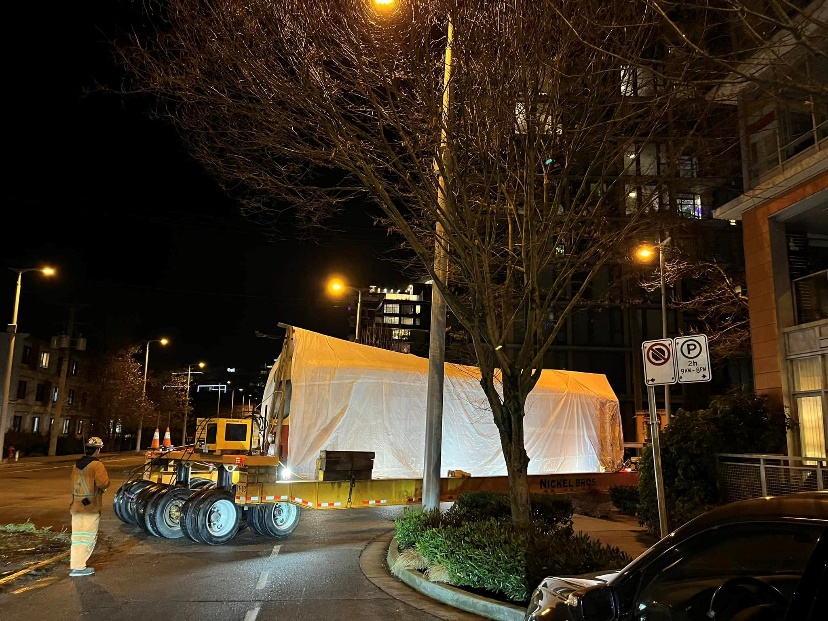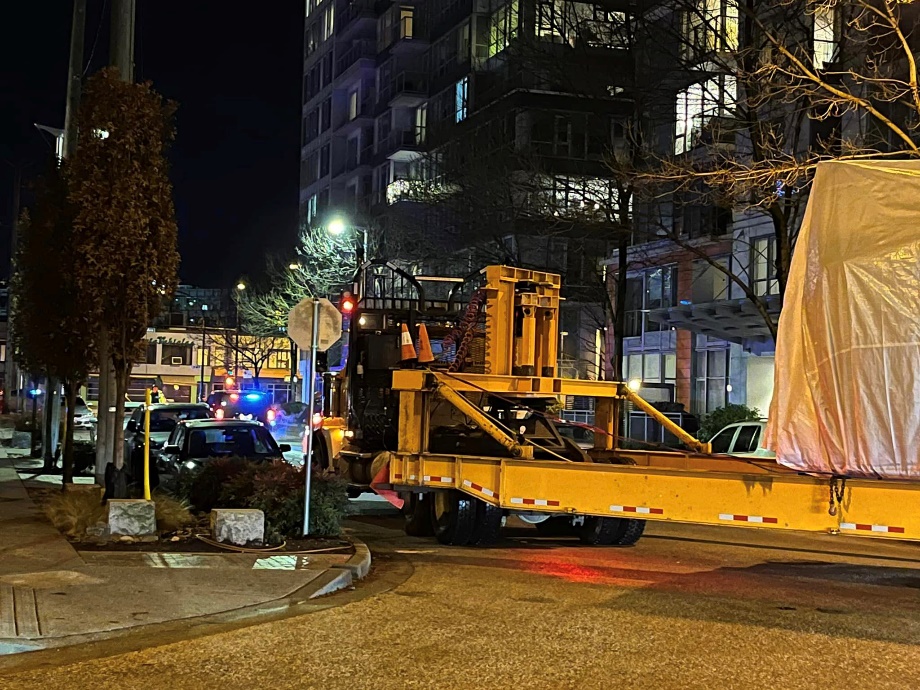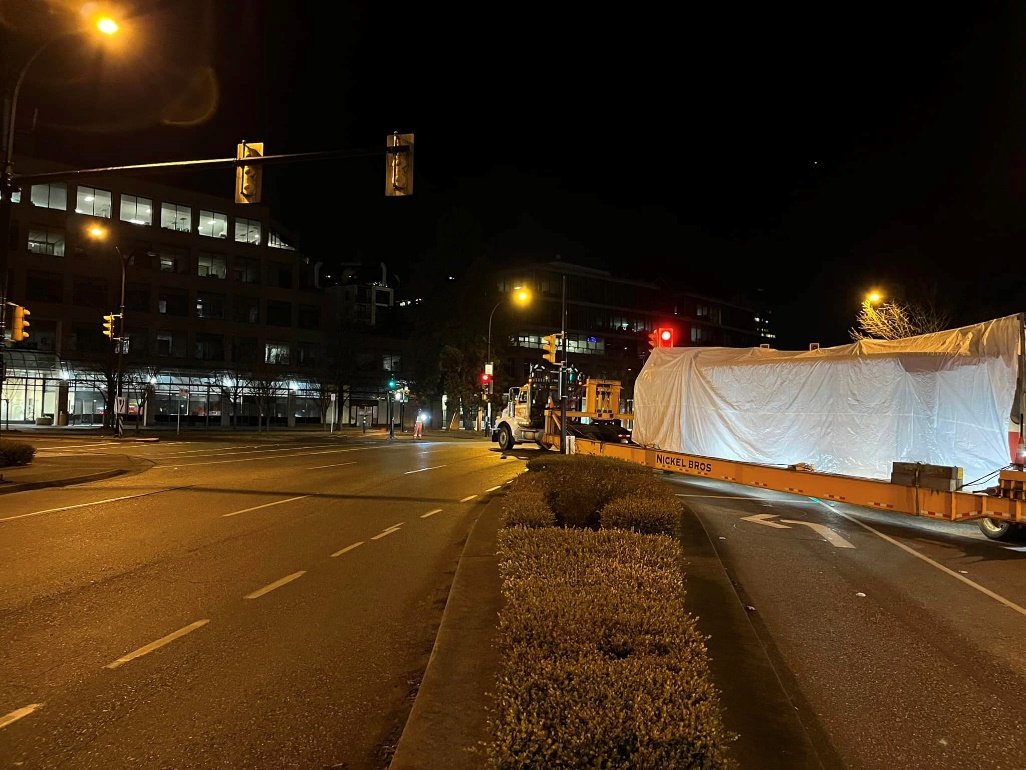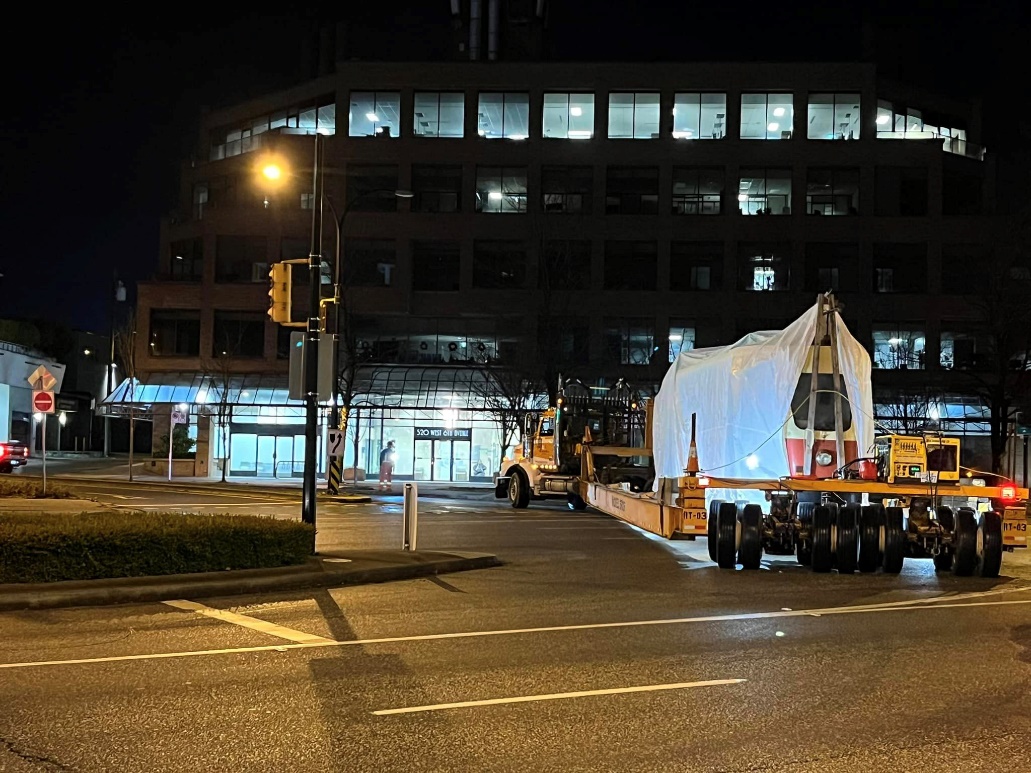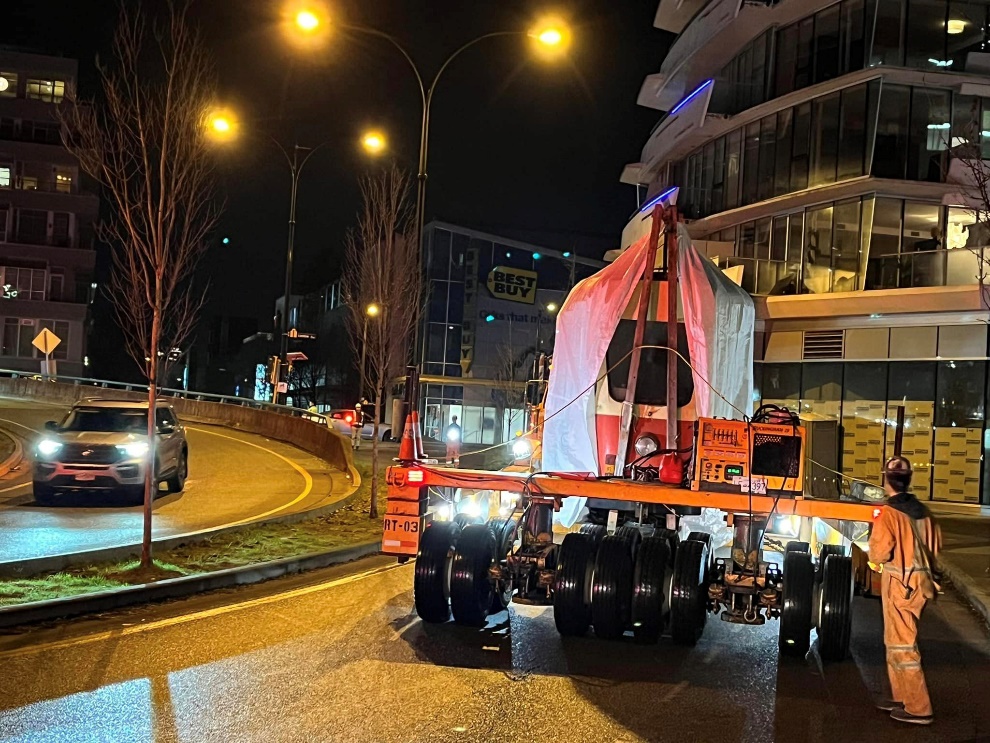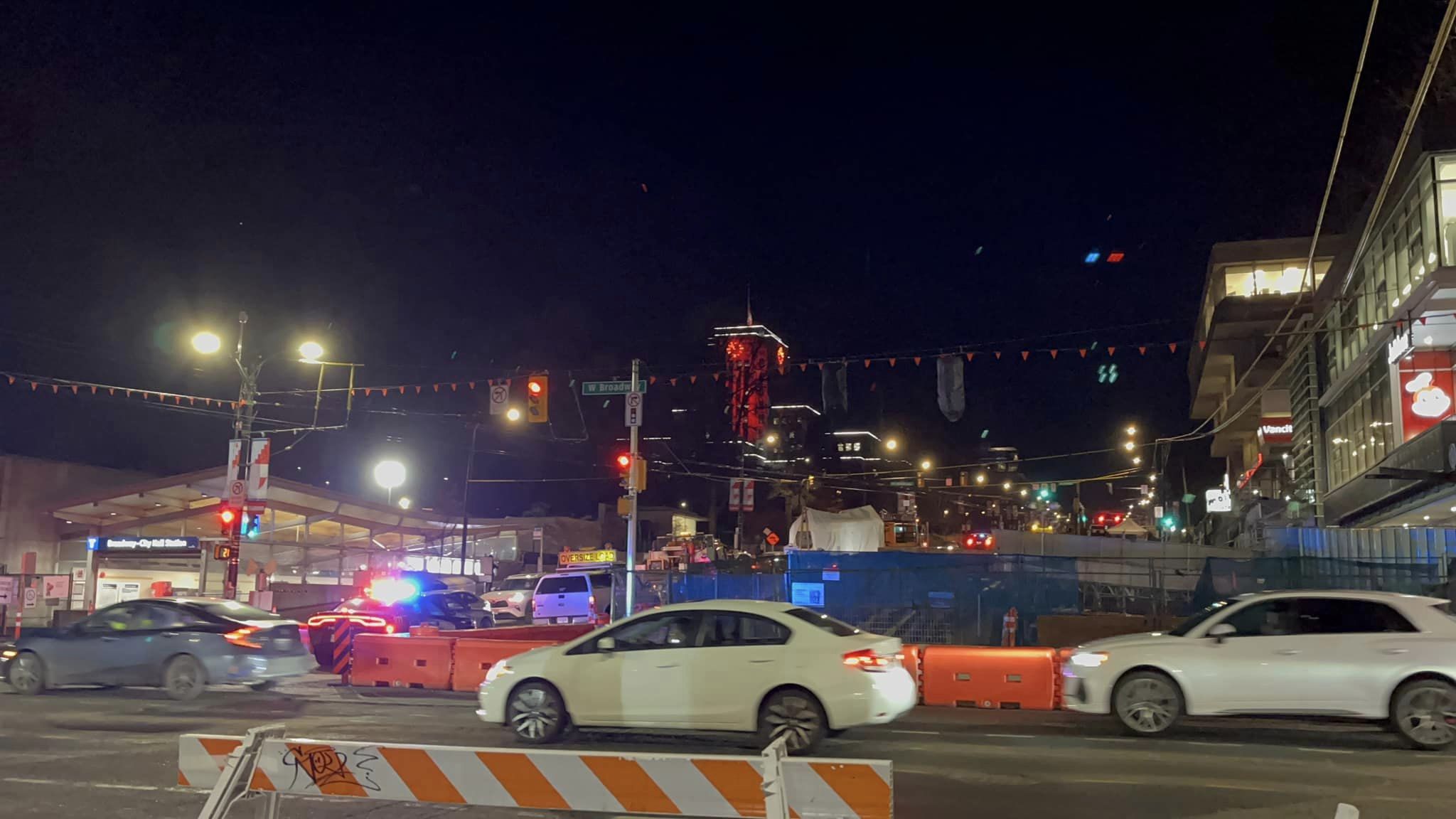 Car #4 travels up Cambie past Broadway, heading to a new phase in its long and varied life. (All photos of the move courtesy Jeff Veniot)