Bryan gets to write about Day 7: It started with a lot of uncertainty. On Sunday, Day 6, we knew that Mundies was scheduled to pick up the Office Bus #2805 at 9am on Monday and take it 108 km out to Rosedale. The rental forklift and pallet jack in Langley were booked for pick up and return in the morning. Our forklift at the Roseberry Shop was scheduled to go to Langley sometime Monday or Tuesday. We needed a smaller cube van for the last load of supplies from Roseberry to Langley. Would Penske have one available? The huge garbage bin in our compound had to be picked up Monday. The pile of scrap metal in our compound had not been touched by the guy that was removing scrap metal for us. (Photos: Bryan Larrabee and Rob Chew)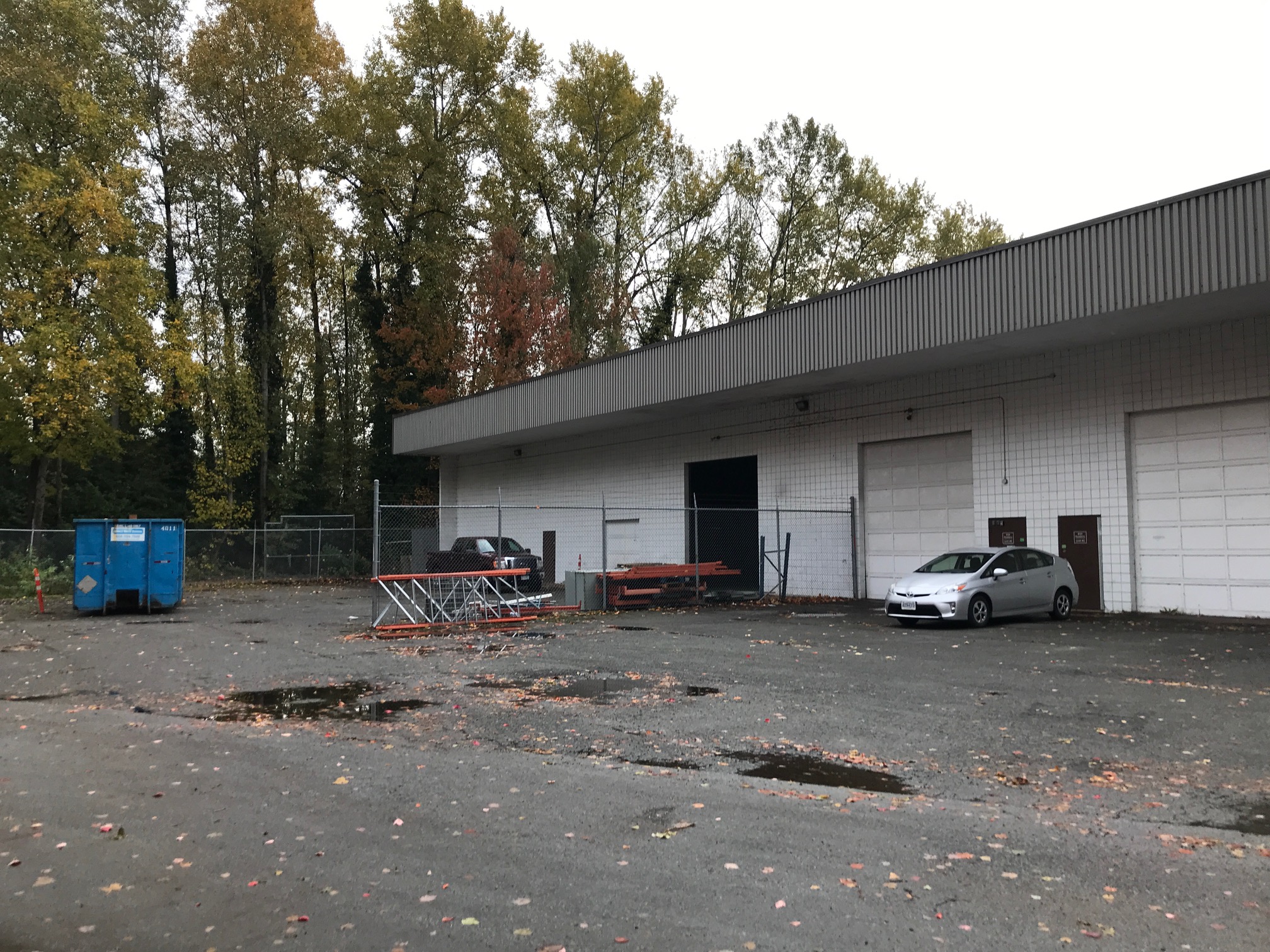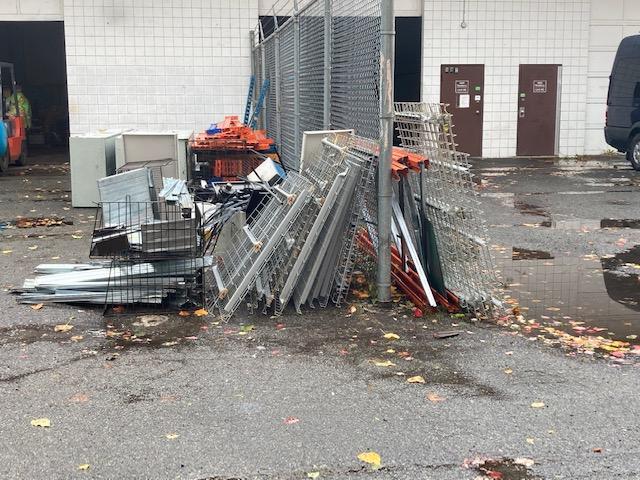 At 9am Monday morning, Sean and I were waiting at the shop for the tow truck and I noticed that over half of the scrap had been removed late Sunday evening. The scrap guy came through for us. As the tow truck arrived on the scene it occurred to me that when it got to it's destination, it might not be able to make the tight right hand turn onto the property. I called Rick at Mundie's and said that we may need a "plan B" but he assured me that the driver he assigned was the best in North America at coaxing his truck into tight spaces. He would call me if there was a problem. I was doubtful.
Michael agreed to deal with the rental forklift company and he asked them not to pick it up in Langley until 2pm. Alexia at Penske had a cube van available for us and she had it ready to go at 10:30 when I picked it up. Sean and I loaded the truck and we were on the road by 11:30. Rob agreed to meet us out in Langley and would coordinate the forklift coming and going.
We got a call from Chris while we were on the way to tell us that our forklift was getting loaded at Roseberry already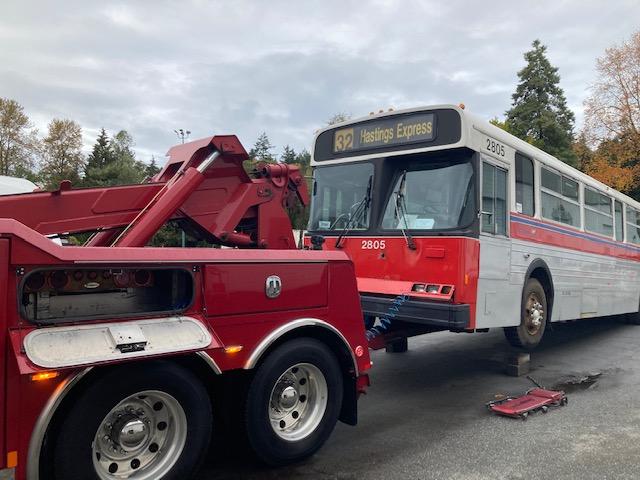 .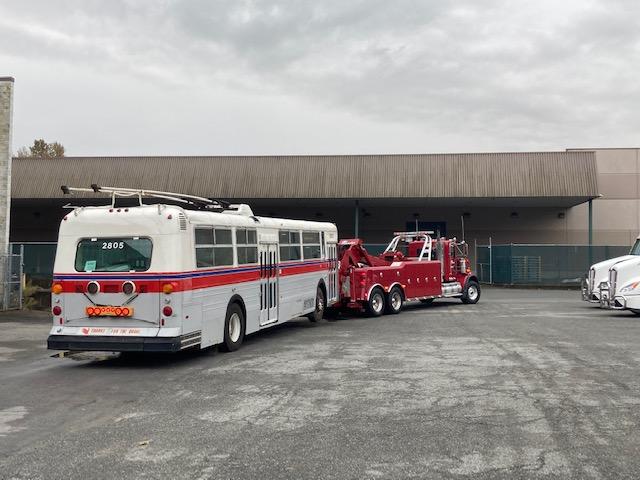 As Sean and I arrived in Langley to unload the cube van I got the news that the Mundies tow truck was able to successfully deliver and unload #2805 although it was a slow and highly technical process.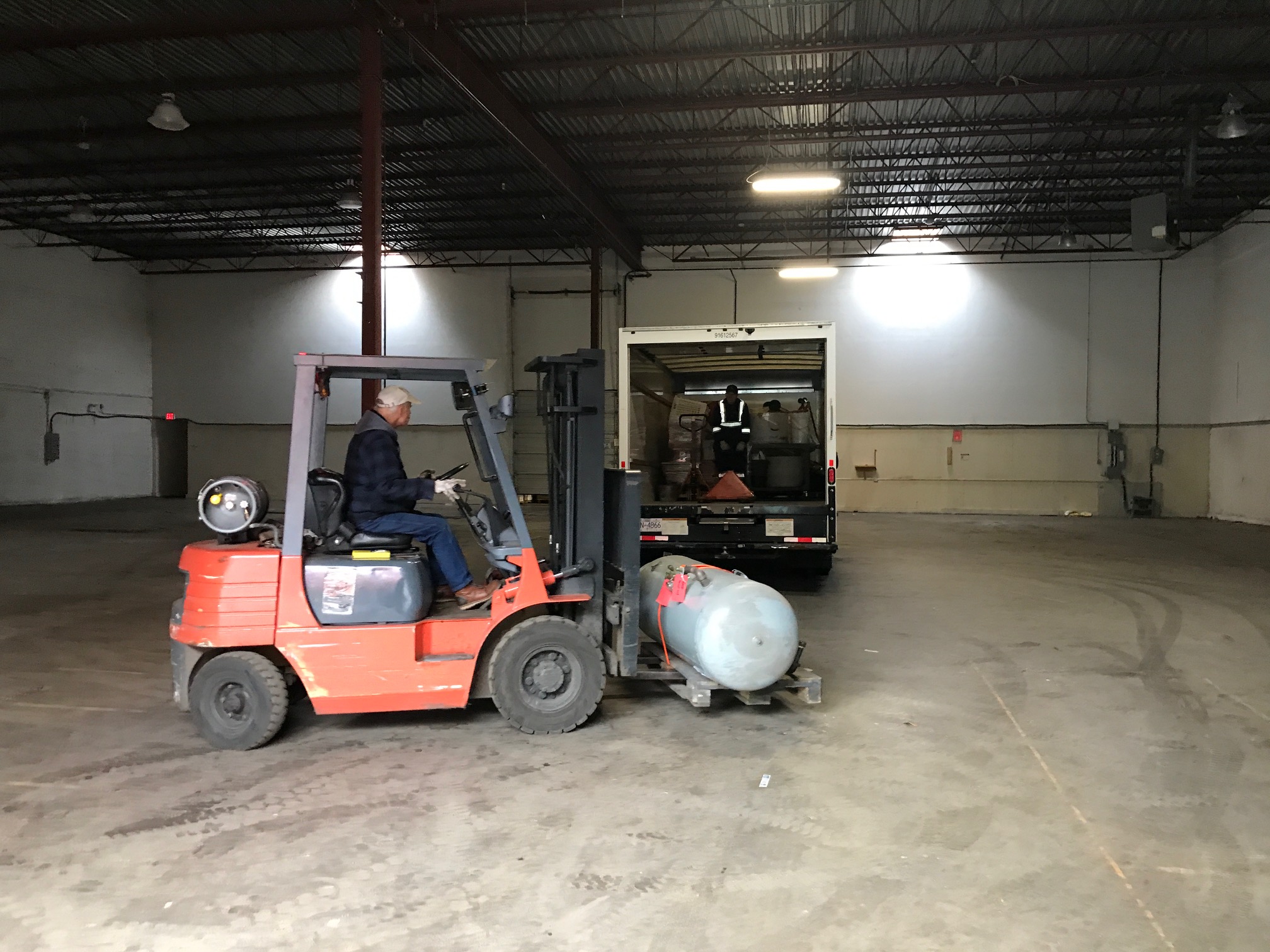 In Langley, we had to back the Museum Bus #730 out of door #3 to get the rental forklift out and start unloading the cube van. As we were unloading the last two pallets I got a call from the rental company to tell us their truck was on it's way to pick it up. The truck showed up just in time and as they were loading the rental forklift our own forklift arrived from Roseberry. We got it inside and pulled #730 back in the shop with hardly any room to move.
Rob kindly brought me lunch and he stayed to clean out the D40LF Low Floor to get it ready for a charter on Remembrance Day. Sean and I were back in Vancouver by 3:30 and I got a text from him to say that the garbage bin had been picked up. I put $60 worth of fuel in the cube van and returned it to Alexia at Penske in one piece. It felt like a major alignment of the stars had to take place on Day 7 and it did!
Editor: Typically, Bryan understates his involvement in this huge, complicated operation. I'm sure everyone would admit that without his planning and tireless oversight, we'd still be resident in Roseberry as the bulldozer moved in. Thank you, Bryan. Also thank you to those members of the Society who helped – stretching all the way back to those who scouted the Lower Mainland for suitable premises, way back when. They started our journey which culminated on Monday. Yea team TMS!