Streetcars used trolley wheels to collect electrical current from the circular profile overhead wires – as the trolleybus used newer grooved profile wire, it used a sliding shoe. This greatly increased the contact area reducing arcing. But a necessary component was a disposable, replaceable insert made of carbon. In the early and mid-20th Century, when our Brill trolleys were introduced, the premier supplier of overhead components was Ohio Brass of Mansfield, Ohio. In Vancouver, the carbon shoe insert used was manufactured by Morgan Advanced Materials based in England.
With the delivery of New Flyer trolleys, the design of the trolley shoe was changed to one by Vossloh Kiepe of Germany. The carbon inserts are not interchangeable.
Angus McIntyre, retired trolleybus operator, writes:
Ohio Brass shoes were made by different companies after Ohio Brass no longer made them. The Kiepe carbons for the New Flyer low floor trolleys are longer and narrower and simply drop in place. This speeds up carbon changes. The Ohio brass shoes require a socket wrench, bolt and cotter pin each time they are changed. OB shoes can operate in forward and reverse. Kiepe shoes are designed for forward operation – you might be able to travel a short distance in reverse at a very slow speed on straight wire.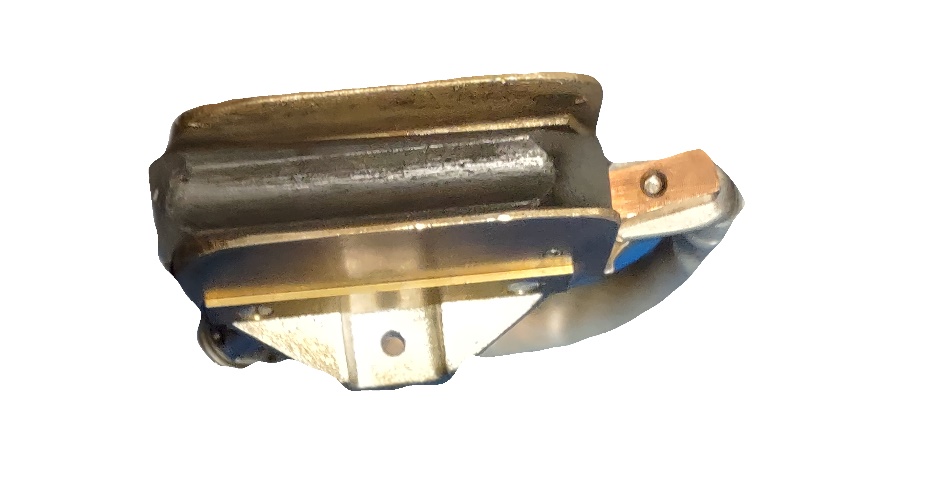 (upper: Ohio Brass) (lower: Vossloh Kiepe)